On 21st October,2023 we gathered with profound respect and immense gratitude to celebrate the birthday of Professor Syed Saleheen Qadri, PhD, the co-founder of ideSHi, and a visionary whose dream was to eliminate thalassemia from Bangladesh. Prof. Syed Saleheen Qadri's dream was not only ambitious but profoundly meaningful – to create a thalassemia-free Bangladesh.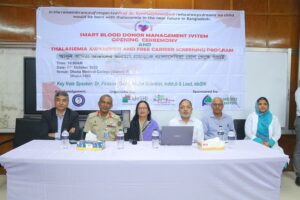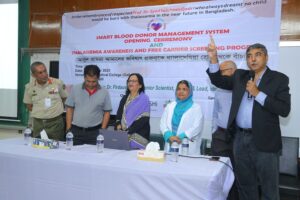 To commemorate Prof. Saleheen Qadri's legacy at ideSHi, with the support of First Security Islami Bank (FSIBL) along with HUPBD (Help Unity Program Bangladesh) arranged the "Smart Blood Donation Management System" launching ceremony and a Thalassemia Awareness and Free Carrier Screening Program at Dhaka Medical College premises.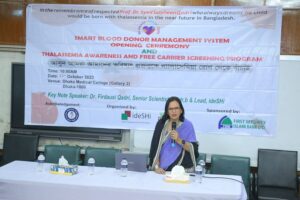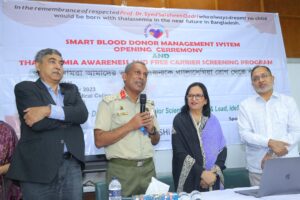 Dr. Firdausi Qadri, Founder and Lead of ideSHi delivered an awareness speech covering the history of ideSHi's thalassaemia initiatives, as well as the pathophysiology, prevalence, importance of screening, and outcome of thalassemia. Dr. Firdausi Qadri, along with Prof Dr. Shafiqul Alam Chowdhury, Principal, Dhaka Medical College, Brig. Gen. Md. Nazmul Haque, Director, Dhaka Medical College & Hospital,  Prof Dr. Abdul Hanif (Tablu), Vice Principal, Dhaka Medical College, Dr. Shahnaz Karim, Professor, Transfusion Medicine had inaugurated the "Smart Blood Donor Management System (SBDMS)" created by Syed Faridul Alam, Founder & President, Help Unity Program Bangladesh.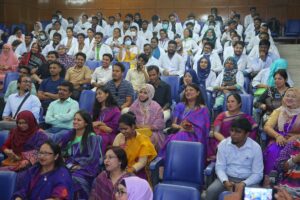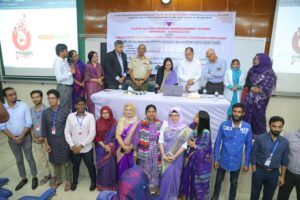 It was phenomenal to have the distinguished Professors from DMC and DMCH, Shandhani, and other reputed institutions were present on the event. Prof. Dr. Debesh Chandra Talukder, President, Dhaka Medical College Teachers Association, Prof. Dr. Moni Lal Aich Litu, on behalf of Shandhani, also delivered their speech on the event. Prof. Dr. Akhil Ranjon Biswas Professor & head, Dept. of Haematology & BMT Unit.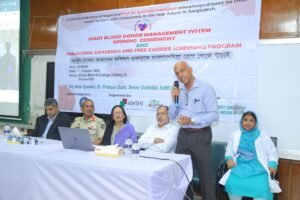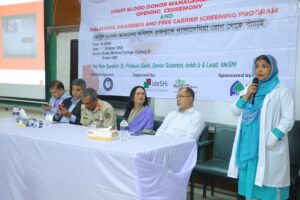 At the end of the program, on behalf of ideSHi team, Dr. Sharmin Akhter Zahan, Chief Operating Officer, ideSHi thanked the audience and the guests for their kind presence, appreciation for ideSHi initiative, and showing their interest of future research and collaborations.   ideSHi is indeed grateful and honored to Dhaka Medical College administration for receiving an extra-ordinary support for the event.